Looking for 3D printer filament types? When it comes to 3D printing, choosing the correct filament is a critical requirement. This article will review the different kinds of 3D printer filaments. We will also discuss the benefits and downsides of each variety. Finally, you'll be better prepared to make 3D printer filament purchases if you have this information at your disposal.
We will describe each filament's unique qualities throughout the guide, including technical specifications, mechanical properties, and specialized applications.
Each 3D printing filament has its benefits and drawbacks that we will examine in this guide to determine the best for your particular use.
What Is a Filament in 3D Printing?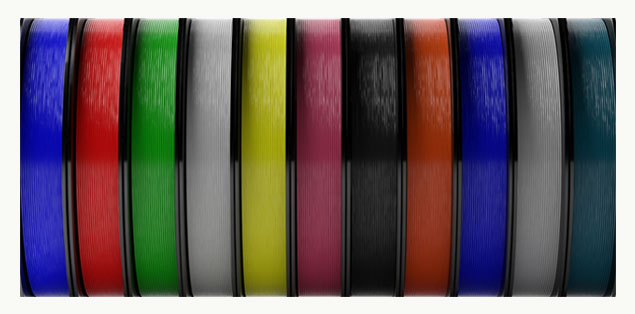 3D filaments are thermoplastics, which are a form of plastic. They will become flexible if you heat the thermoplastics to the correct temperature. This flexibility allows the printer to mold the filament into the desired forms before it hardens.
ABS, which stands for acrylonitrile butadiene styrene, and PLA are now the most widely used filaments in 3D printing (Polylactic Acid).
Despite this, there are a variety of alternative filaments than PLA and ABS that you can use in 3D printers. Some of them are resistant to the effects of heat, chemicals, and food. You may be familiar with some of them from reading or hearing them. In the meanwhile, some of the others could be new to you.
How Is a 3D Printer Filament Made?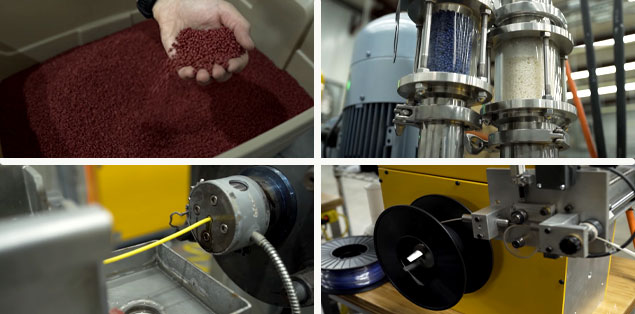 Here are the steps involved in a 3D filament's production.
Plastic
The preparation of plastic is the first stage in the production of filament. During refining, manufacturers heat crude oil in an industrial furnace. There are two main components: naphtha and ethane.
After melting and mixing with other components, the plastic gets formed. Pellets or resins are the outcomes of this process. Plastic providers often make their products in white so clients can choose the color they want when they need it. Pellets are far less costly than filaments, making them an attractive alternative.
Preparation
In the second phase, the pellets are prepared and shaped. Then, manufacturers harden them into a string-like structure by heating them. Then, they mix additives with the pellets in an industrial mixer. The makers can also add colorants using these additives, or they can determine qualities like resistance, strength, etc., with the additives' help.
To dry the pellets, they are carried to the drying area when mixing is complete. As hygroscopic means absorbing moisture from the surrounding air, we often refer to pellets as hygroscopic. They're baked at 60° to 80° C for a few hours.
Shaping
In the third phase, the manufacturers form pellets into string-like shapes. Heating and cooling are involved in this process.
Heating
The manufacturers first put the pellets into a filament extruder with a heating chamber, where they melt the pellets. Then, the pellets are melted into a sticky substance to get the appropriate form. As a result, the stringy material gets expelled and cooled via a nozzle.
Cooling
The filament enters two chambers after exiting the initial chamber where the manufacturers first created it. The first chamber contains heated water, which creates a filament with a circular tip. The second contains cold water, which the filament passes through to cool and take on a new shape.
Spooling
The manufacturers then transport the filaments to the spooling area for processing. Checking the diameter of the filament to see whether it's close enough is what this is all about. For example, 1.75 mm or 2.85 mm are the most common diameters. At last, spools are coiled with filament and ready to be cut. The filament is severed when the makers detect that the spool is full. There is a recurrence of the same procedure. The spooling process makes the filaments heat resistant.
Packaging
The last phase is to market and sell the product. The company does packaging for its own brand in this phase. Makers use labeling and barcodes for commercial purposes in packaging.
What Are the Different Types of Filaments Used for 3D Printing?
The different types of 3D printing filaments are:
ABS 3D Filament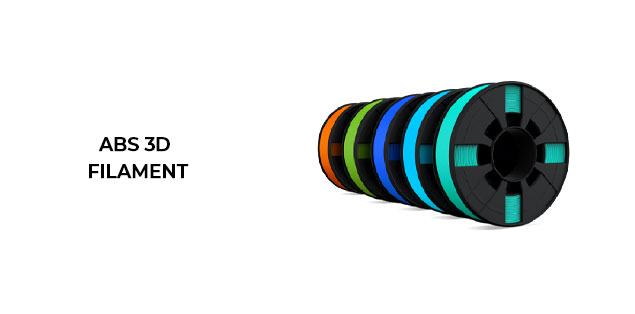 There are good reasons why ABS is so well-liked. First, since it is very elastic and resistant to abrasion, it is tough and durable. Second, 3D printing is a great way to use this material because of its mix of strength and flexibility. It's also a simple material to deal with because of how easily it extrudes from the printer's nozzles.
Applications
With ABS, you may 3D print various plastic items such as automobile components, moving parts for musical instruments, household appliances, and electrical housings. You may use it for more than just 3D printing. Traditional manufacturers, for example, employ ABS in producing plastic wrap, water bottles, and cups, to mention a few applications. Although ABS is a popular material for 3D printing, it is not the greatest choice for most home printers. Due to its high melting point, a heated bed is a necessity to print with this material. Budget-range 3D printers don't usually come with heated printer beds.
PLA 3D Filament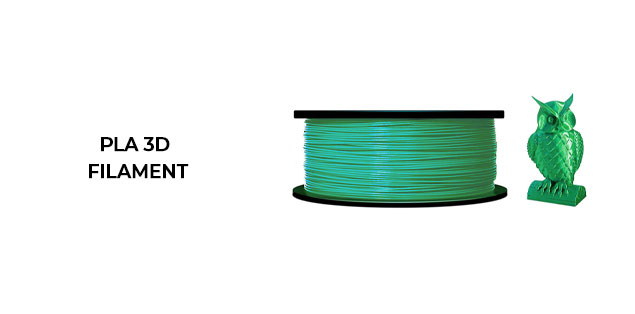 Amateurs and pros alike love PLA (Poly Lactic Acid). Cornstarch and sugarcane are the primary ingredients of this thermoplastic, an organic thermoplastic. Toxic fumes are not concerned with PLA, making it safer and simpler to work with. However, some users even consider the sugar-based filament's sweet scent pleasant. For example, PLA makes 3D items that are more visually appealing than ABS. Its unusual shine and smooth look give this finish a standout.
However, this option has certain limitations that you may not realize. First, the melting point of PLA is lower than that of ABS. Hence, it is more prone to breakage, making it less durable. Moving components or high-temperature exposure may have an impact on this.
Applications
You may use PLA in a variety of ways. For example, medical suturing is one professional use for PLA filament (stitching). These include surgically inserted pins and rods, screws, mesh, and other types of implants. The degradability of the material is what makes the applications function. For example, you may use PLA filament to make various consumer goods at the hobbyist level.
Additionally, PLA prints quicker and does not need a heated printer bed. The final products have a reasonable strength, durability, and impact resistance. In addition, food packaging, disposable dinnerware, and diapers are just a few examples of additional things made using PLA outside 3D printing.
PET Filament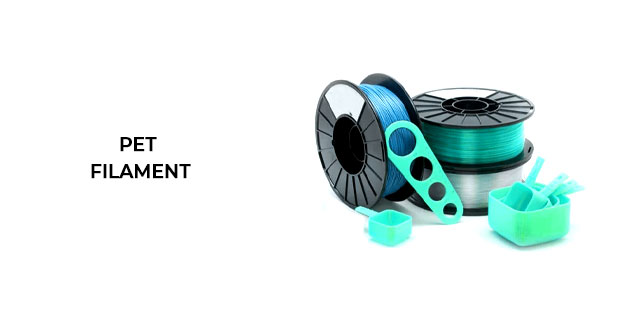 Three-dimensional printing has become popular with using PolyEthylene Terephthalate (PET). Everyday plastic bottles are another prominent usage for PET. In addition to being chemically inert and non-toxic, you may recycle this plastic indefinitely without losing its properties. The filament is colorless and transparent in its unprocessed condition. When subjected to low or high temperatures, the material loses its transparency. PETG filament, also known as Amphora AM1800, is a more sophisticated variant of PET.
Applications
The FDA has authorized PETT as a polymer. As a result, it is fully safe for goods such as cups, plates, and other food service items. In addition, PETT filament is the most common in making food vessels and other kitchenware.
PETT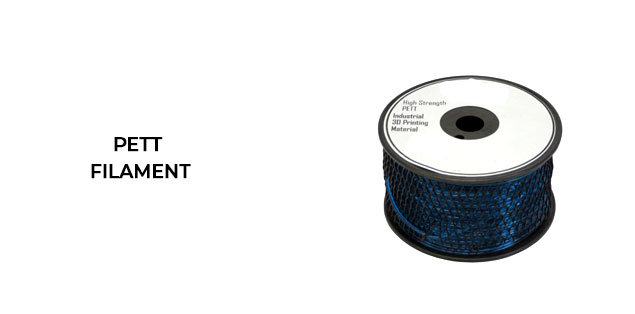 PolyEthylene Trimethylene Terephthalate (PETT) is a T-Glase filament. It is a common 3D printer material that is also food-safe. Despite being recyclable, the filament is non-biodegradable.
Applications
PETT is another polymer that has received FDA approval. As a result, you may safely use it around food. For example, PETT is very common in food storage containers and other kitchenware.
Nylon Filament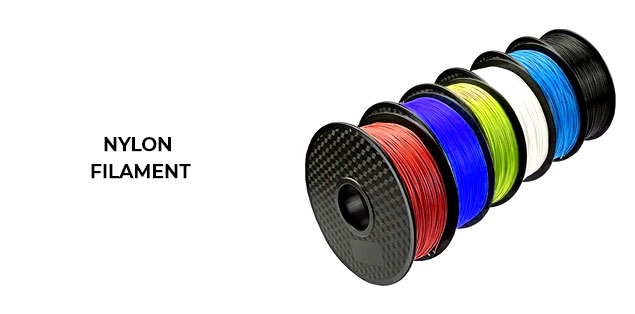 Polyamide, sometimes known as nylon filament, is another popular option. This synthetic polymer is more durable, stronger, and more cost-effective than ABS and PLA. The properties of this material are superior to those of ABS and PLA in terms of flexibility, weight, wear resistance, and brittleness. There are a variety of nylon filaments to pick from, and which one is right for you depends on your budget and requirements. The filament's layer bonding properties, tensile strength, and water absorption vary. Additional options include nylon filament with lower shrinkage and a transparent or opaque finish.
Applications
Its strength, flexibility, and long-term use make the nylon filament an excellent material for many applications. It's ideal for many items, including consumer goods, tools, mechanical components, machine parts, structural components, containers, and more.
PVA Filament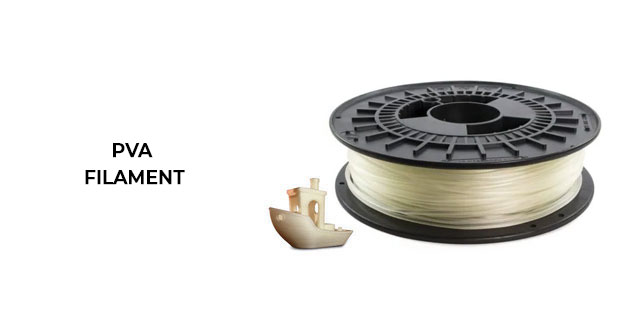 A suitable 3D filament to use as a support material when printing with ABS or PLA is PVA (long name Polyvinyl alcohol). When printing 3D items with noticeable overhangs, you'll need support materials. These pieces would be hard to print or perfect without assistance. The best use of PVA is as a support material in printers with dual extruders. This material is an environmentally friendly substance that dissolves readily in tap water. For example, you may use PVA with a heated build platform on all desktop FDM printers, which avoids warping during the build process. The print bed temperature should not exceed 200 °C for optimal performance as a support material.
Applications
PVA serves as a support material in 3D printing. You may use PVA for many things other than 3D printing. For example, you'll find it used as a thickening agent in paper adhesive goods and as a mold-release agent in kid's putty and freshwater fishing items.
Sandstone Filament (PLA + Brick)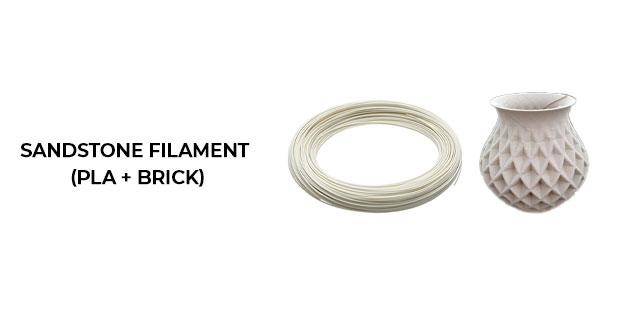 Your 3D printed components will have a distinctive look, thanks to sandstone filaments. With a fine chalk powder, this PLA substance has a stone-like color and feel. By modifying the printer's extrusion temperature during printing, you may also vary the surface's properties. You'll be able to make smooth, rough components or anywhere in the middle with enough experience. The brick filament known as 3D sandstone is available from various manufacturers under various brand names. LayBrick is currently the most popular.
Applications
You may use 3D sandstone filaments innovatively, although their specialized application is reasonable to claim. Landscapes and architectural display models are the most common uses for this kind of material.
Wood Filament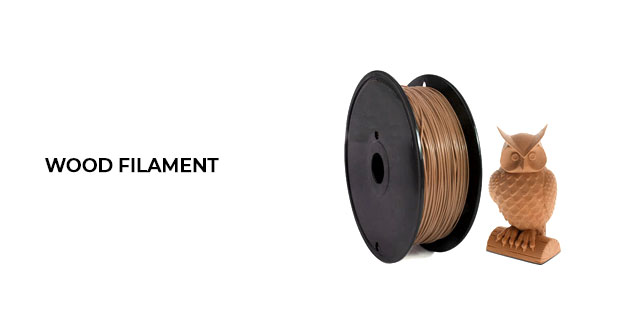 3D wood filaments are, in fact, a real thing. Wood filament is what you need if you want to become more creative with your 3D printed products. These filaments derive from a precise blend of reclaimed timbers and a unique polymer that serves as the glue. The final product not only resembles genuine wood in appearance, but it also has a pleasant aroma. You'll find plenty of examples online if you're looking to see what wood filaments can do.
Applications
The only limit to what 3D print lovers may create with wood filament is their imagination. Decorate with it to create elaborate boxes, tables and chairs, figures, and more.
Metal Filament PLA / ABS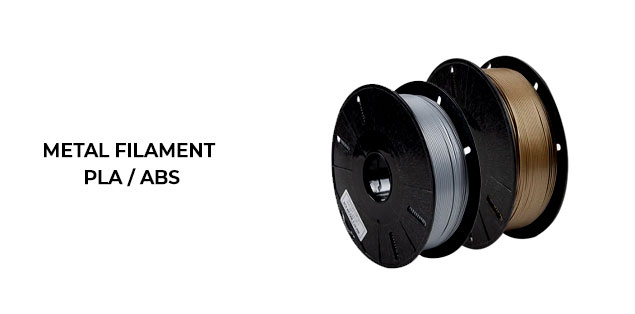 In terms of 3D printing finishes, metal filaments are in a league of their own. We mix PLA with a larger proportion of fine metallic particles in the components. There are a wide variety of metals that you may use, but the most popular are stainless steel and aluminum. Anyone interested in enhancing the final product may do so. You may tarnish or pressurize the completed piece to make it appear more authentic. They're not 100% 3D metal, but they're a close enough match.
Applications
You may use a 3D metal filament to make anything from hardware to jewelry, sculptures to antiques, and much more. The filaments you use while printing with 3D metals significantly impact the final product.
HIPS Filament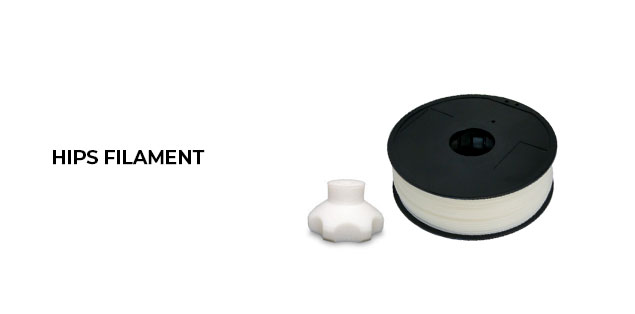 3D biodegradable High Impact Polystyrene, sometimes known as HIPS, has a dazzling white color. Users who touch the filament will not get harmed in any way. Pets may use it without fear. HIPS, like PVA, is an excellent supplementary material. It's difficult to use on its own, particularly with printers that don't have a heated bed, for generating 3D printed items. A liquid hydrocarbon, a colorless solution, swiftly dissolves the filament as a support structure.
Applications
HIPS is common as a support material for other filaments in 3D printing (see above). Besides 3D printing, HIPS is used by other industries because it is a robust, ridged plastic that they can handle. In the food business, it is a common packaging material. Medicinal trays, signage, and a wide range of children's toys are just a few of the many other applications.
Magnetic Iron PLA Filament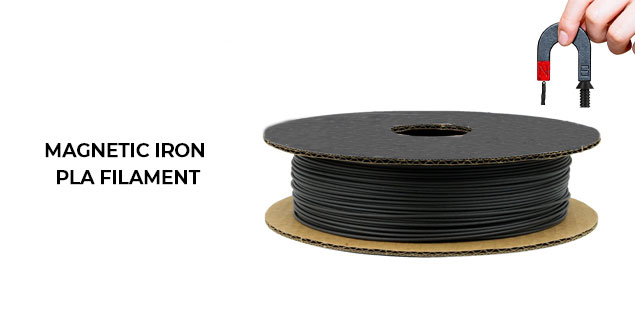 Magnetic iron PLA filament, as the name indicates, has magnetic characteristics. This filament comprises iron impregnated PLA material. The 3D pieces have a gritty gunmetal finish because of the iron particles. You may also use magnets to hold things in place, which might be handy in various creative endeavors. You'll find it useful if you're interested in working with PLA iron filament.
Applications
Magnetic iron PLA is the ideal material to use if you want to make unique fridge magnets or other curiosities. This filament is mostly a novelty item for the general public. Using magnetic filament for more serious purposes, such as sensors, instructional tools, and other DIY projects is a great way to get your hands dirty.
Conductive PLA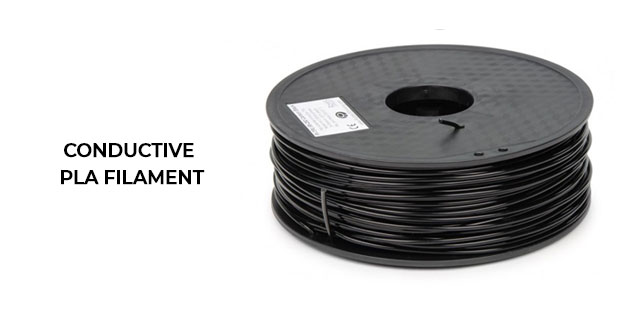 Conductive PLA 3D printer filament may be a good option for those looking to expand their 3D printing horizons. A conductive carbon particulate is present in this particular sort of 3D material. This presence of carbon suggests that the material can print low-voltage electrical circuits without becoming too complex. Sensors and light emitting diodes are among the most common (LEDs). Using a dual-extrusion 3D printer and plain old PLA filament, users can manufacture basic circuit boards right off the printer's bed. Conductive ABS filament is also available for those who prefer working with ABS.
Applications
Open-source electronics platform Arduino projects benefit greatly from conductive PLA filament. Explore this filament if you're interested in making low-voltage circuits, LEDs, and sensors.
Carbon Fiber 3D Printer Filament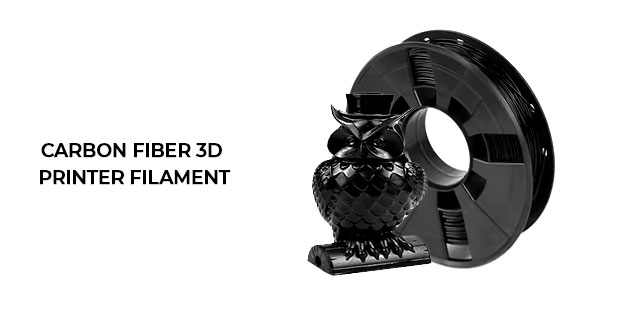 Carbon Fiber PLA is a remarkable 3D filament for printing with 3D printers. Incorporating microscopic strands of carbon fiber into the polymer results in a highly-structured substance. It's also quite strong and has an excellent adhesion between layers. Standard PLA and carbon fiber PLA have comparable characteristics. However, carbon fiber PLA is more rigid. Warp-free printing is made possible by the increased dimensional stability of the material. Carbon fiber filament has the drawback of hastening the deterioration of printer nozzles, particularly brass ones, due to its abrasive nature.
Applications
You can make high-quality and durable products using carbon fiber PLA filament. Protective cases, mechanical components, and many other high-durability applications fall into this category.
How Much Filament Does a 3D Print Use?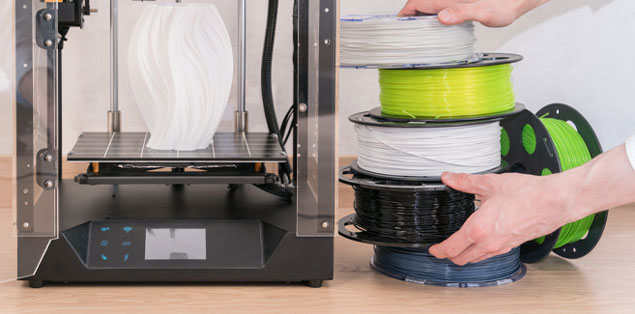 For general use, approximately 50 g.
The term "general use" refers to occasional 3D printing of components, tools, and other accessories, but not regularly. In other words, anything that isn't a full-fledged undertaking.
For typical 3D printing, the filament would not surpass 50 grams (PLA). However, having two or three spools of 1KG filament on hand is plenty. However, you'll need more filament if you have a 3D printer that can print with two or three filaments simultaneously.
Everyone should keep a backup spool of the same color as their primary one on hand as a safety net.
Which Filament Is Best for 3D Printing?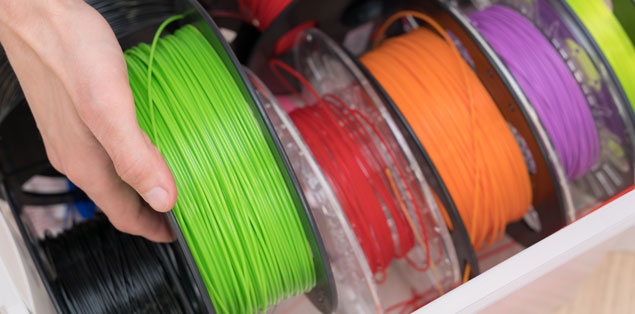 A filament made of PLA or Polylactic Acid.
In the field of commercial 3D printing, polylactic acid (PLA) is king. While ABS may be running for the crown, PLA is the most often used filament in 3D printers. There's a solid reason why manufacturers use PLA so frequently.
PLA comprises corn starch, unlike most plastic. Hence, it's non-toxic and biodegradable in principle. However, it would need a large industrial composter to accomplish this. PLA is the safest filament since it melts plastic at a temperature between 190 and 215 degrees Celsius. You can print PLA on almost any FDM 3D printer in the world.
What Is the Strongest Filament for 3D Printing?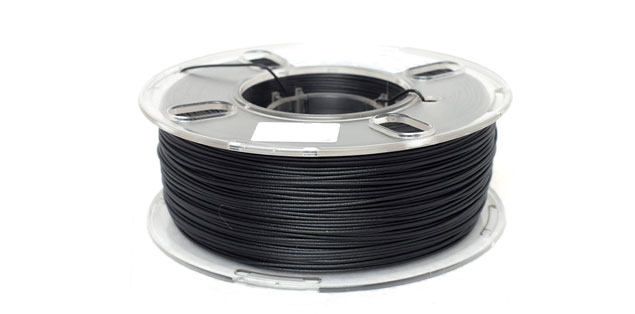 Per our research, Polycarbonate (PC) is the toughest filament available for home use. Printed correctly with an all-metal heating element and a housing, PC may generate items with extraordinary durability.
In contrast to many other materials, polycarbonate's mechanical structure is very resilient and strong in strength tests. Compared to PLA's PSI of 7,250, often used in engineering, polycarbonate has a PSI of 9,800.
How Much Is 3D Printing Filament?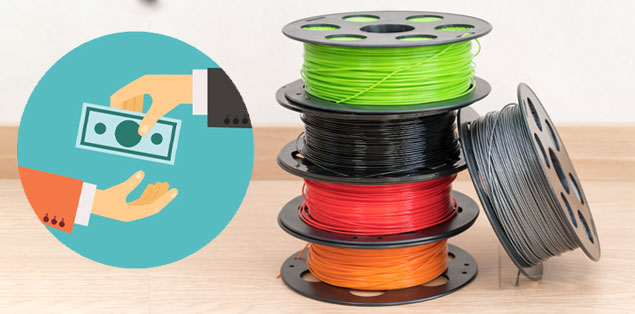 Here's what different 3D printing filaments cost:
PLA Filament
There are a variety of PLA filaments available, the most common ones cost between $15 and $20 per kilogram. Special PLA filaments like silk PLA, which has a cool sheen, cost roughly $30 per kilogram. At the same time, color-changing PLA is more expensive at $40 per kilogram.
ABS Filament
For FDM 3D printing, ABS is a comparatively inexpensive material. The price of a 1-kg spool of decent ABS, including low-odor varieties like Polymaker's PolyLite ABS, is between $20 and $35.
PETG Filament
The increased properties of PETG could lead one to believe that PETG would be more costly, but that is no longer the case. An affordable PETG filament, like MatterHackers Pro PETG, may be obtained for as little as $20 to $25 per kilogram.
HIPS and PVA Filaments
Regarding printing temperature, HIPS and ABS are a match made in heaven: ABS as the major material and HIPS as the supporting material. The dissolving liquid (Lemonesol) costs around $20 for a 500-ml bottle, whereas a spool of HIPS costs anything from $20 to $60 per kilogram.
BPVA melts at the same temperature as PLA. Hence, it is ideal if coupled with the other two. On the other hand, this substance dissolves in water without special chemicals. This news is wonderful since 1-kg spools of PVA may cost anywhere from $60 to $130.
Flexible Filaments
The cost of flexible filament is high: a kilogram might cost anywhere from $65 to $180. It's one of the most popular NinjaFlex filaments, selling for around $85 per kilogram.
Composite Filaments
Composite filaments may cost anything from $20 per kilogram to over $600 per kilogram.
Final Words – 3D Printer Filament Types
There are a plethora of filaments on the market, each with its own color and price range. Different filaments have different qualities. Hence, the optimal 3D printer filament depends on the printed item. You can use the aforementioned printing filaments to make your printing process smoother.
Also, if you are looking for the strongest 3D printer filament?, check out our guide!