One of the most common issues with 3D printing is the printing speed. However, we've observed that the speed of both FDM and resin printers has increased over time, and you can get some super-fast alternatives on the market for both technologies. As a result, things have changed, and 3D printers have become faster and more efficient.
This post will tell you about the top 7 fastest 3D printers, things you need to look for when buying, and some questions you might have about them.
What Are the Factors That Determine the Speed of a 3D Printer?
Resolution of the 3D Printed Item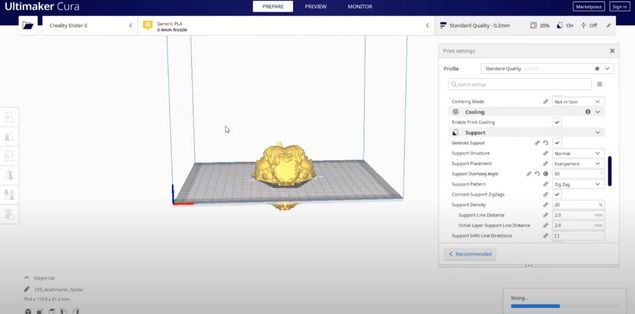 Before beginning the printing process, you must use a 3D slicer to split your model into layers. Moreover, When printing a component at a constant pace, the time required to print the item will increase proportionately with the number of layers and the thickness of each layer.
3D Printing Technology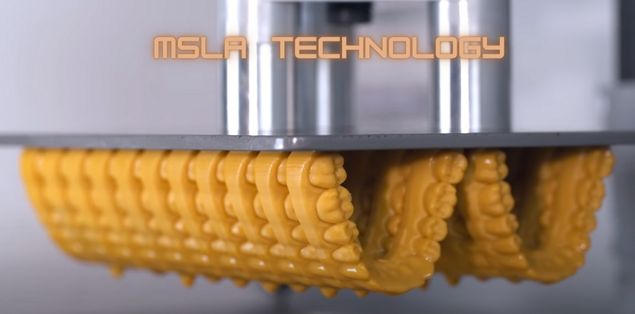 The technology determines the speed at which a 3D printer can print. Since resin 3D printers can cure complete layers at once, as opposed to FDM 3D printers, which must deposit filament over each portion of a layer, resin 3D printers are substantially quicker. In addition, multi Jet Fusion and resin 3D printing technologies like MSLA are among the fastest methods of creating three-dimensional objects.
Material
Certain materials are more accessible to print than others, which puts less demand on the printer and ultimately results in a little quicker print.
Print Size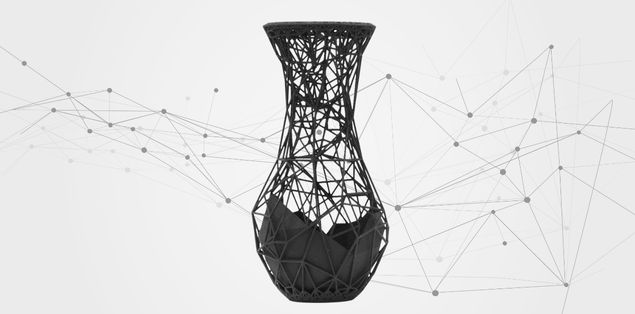 A more oversized print will take much more time than a smaller one. For example, on most FDM 3D printers, printing a full-size vase in specific detail would take around 12 hours, while printing a little figurine might take less than an hour.
Nozzle Size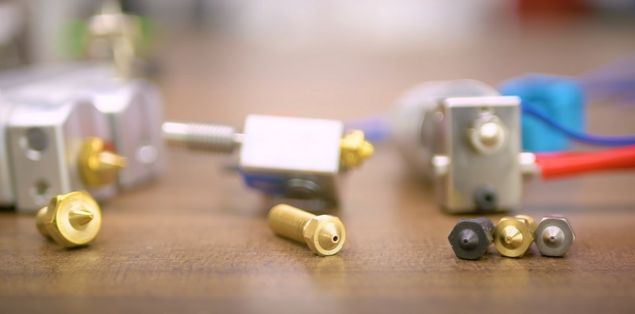 Regarding FDM 3D printing, having smaller nozzles allows for more complex features to be produced properly, while having bigger nozzles may print quicker.
How Fast Is a 3D Printer?
Currently, 3D printers are capable of printing at three different speeds. The first set has a speed of around 40 to 50 mm/s, while the other group of 3D printers has approximately 80 to 100 mm/s. Meanwhile, the quickest set of 3D printers prints at 150 millimeters per second. However, some printers can print at a pace that's even faster than 150 mm/s.
7 Fastest 3D Printers on the Market
Let's walk you through the reviews of the top 7 fastest 3D printers on the market to decide which one suits your needs.
1. R QIDI TECHNOLOGY Large Size Intelligent Industrial Grade 3D Printer New Model: X-max
Fastest Industrial 3D Printer
Max Print Speed: 180mm/s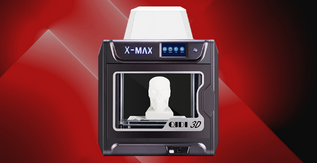 Large print area
Easy to set up
Can handle a wide range of materials
Better print quality
Magnetic removable build plates
The prints are simple to eliminate.
Bed adjustment is simple and assisted
Noise level is low
Dual extrusion is absent
Without a filament runout sensor
Lack of alternatives for monitoring and remote control
Change of filament while printing is challenging
The X-Max from Qidi Technology is the fastest industrial 3D printer on our list as it has ultrafast printing speed for printing objects with a lot of detailing. Moreover, it is a very versatile tool, made for dealing with a staggering array of filaments, from everyday ones like ABS and PLA to challenging and uncommon materials like Nylon and carbon fiber.
We found that this is made possible by the device's sturdy construction and wholly enclosed print chamber, which can withstand extreme temperatures.
The Qidi Tech X-Max has excellent print quality, a highly accurate model, and is relatively quick and has engineering grade materials. X-Max distributes the heat is uniformly across the print platform, and everything is adequately cooled when necessary.
Our team found this printer pretty heavy. The design is totally revamped. Although the outside is composed of plastic, it has a pretty streamlined appearance and indents to help carry it around simpler. Additionally, it has a retractable magnetic bed and an inside light to see what's happening plainly.
Everything about this machine is simple to use. Even though these aren't required, the machine's quality-of-life functions are a welcome addition. For example, assume wireless connection, a user-friendly touch screen, interior illumination, and a detachable print bed. As a result, printing with the QIDI is much more comfortable.
In conclusion, the Qidi Tech X-Max's selling point is its ability to print with a wider variety of materials than the typical home 3D printer. Moreover, Qidi Tech's X-Max 3D printer, with its big print chamber and support for a wide variety of filaments, is an excellent option for individuals looking for an affordable, quiet 3D printer for industrial use.
View on Amazon: R QIDI TECHNOLOGY Large Size Intelligent Industrial Grade 3D Printer New Model: X-max
2. ANYCUBIC Kobra Max 3D Printer
Fastest 3D Printer for Home Use
Max Print Speed: 180mm/s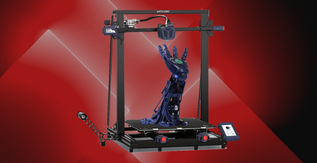 Amazing construction volume
Impressive strain gauge bed level sensor
Auto leveling is great
Straightforward operation
Prints effortlessly with no clogging
Comes with a standard size volcano nozzle
Great value for money
Huge size, large footprint
No removable print bed
Firmware needs some work
The Anycubic Kobra Max is an excellent printer with a significant print volume that requires a lot of space to run, but it is a terrific machine that's simple to use once you locate a place for it. We have chosen it as the fastest 3D printer for home use owing to its printing speed that is sufficient for home use.
Our team found that ANYCUBIC Kobra Max comes with a Volcano-style hotend and has a coated glass bed. It includes an automatic leveling mechanism that physically taps the glass surface to provide precise results that are on par with the greatest 3D printers.
It has everything you need to get started, including the necessary building and maintenance tools, side cutters, a plastic scraper, nozzle cleaning, oil, and a microSD card with a USB converter. You also get a backup nozzle and a little sample of PLA. So we found it very easy to assemble and operate.
ANYCUBIC's 'LeviQ' auto-leveling technology works effectively and spares individuals who have no prior printing expertise from the tedious task of manually leveling the print bed. The Kobra Max's print speed is a grind, but that's OK considering its heft. You need to consider the expense of operating the machine at its maximum power consumption of 500w for an extended period if you're printing anything with a lot of detail.
In conclusion, ANYCUBIC Kobra Max is for those aspiring cosplayers, prop builders, or creators in general; this big-size printer is available for a reasonable price. Although not everyone may need the ability to print massive documents all at once, if you do, this will be a lifesaver. It's great for home use.
View on Amazon: ANYCUBIC Kobra Max 3D Printer
3. Comgrow Official Creality Ender 3 Pro 3D Printer
Fastest 3D Printer for School Printing
Max Print Speed: 200 mm/s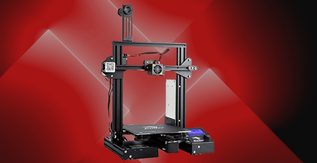 Excellent price
Outstanding print quality
Extremely easy to assemble
Compact design
Decent print volume
Upgradable and hackable
Print bed leveling is challenging
Some people may not like magnetic beds
The Creality Ender 3 Pro is our choice for the fastest 3D printer for school printing as schools have a restricted budget. It has good features, produces reliable prints, and is quite simple to operate. Moreover, it comes with a good printing speed that is enough for students to learn 3D printing.
Although the Creality Ender 3 Pro is sent unassembled, it comes with everything you need to assemble and start immediately. The box has all the printer's components and a pair of Allen keys, zip ties, and wire snips to cut filament.
There is also a scraper to remove items off the bed and microSD cards, a microSD reader, and a tiny sample coil of PLA filament. The bolts are packaged in sets and labeled with their dimensions, which is quite helpful while assembling the device.
We found no issues with loading the filament. We could feed filament into the printer using the injection molded extruder and the white Bowden tube. So, setting it up and starting to use it is a breeze. The printer area is rather large for such low-cost equipment and allows you to print multiple items if you have the patience to wait.
The Ender 3 Pro comes with Creality Slicer; the printer setup process is much more straightforward for first-time users who don't have the time or inclination to learn how to work with third-party software.
In conclusion, if you're looking to get into 3D printing, Ender 3 Pro offers a lot. If you're a novice or an experienced enthusiast, this is a superb first printer to get you started, and it's great for the limited budget schools have to teach the students about 3D printing.
View on Amazon: Comgrow Official Creality Ender 3 Pro 3D Printer
4. Voxelab Aquila 3D Printer
Fastest 3D Printer in Budget
Max Print Speed: 180 mm/s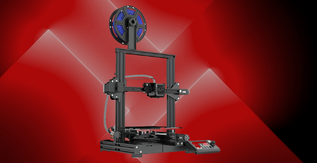 Superbly inexpensive
Extremely easy to use
Quieter operation
Straightforward assembly
Straightforward to begin printing out of the box
Comes with software to prepare 3D files
The glass print bed is excellent for PLA and ABS
Should be able to go hotter than 250 degrees
Bed Adhesion needs some work
You can start with 3D printing with the Voxelab Aquila, an excellent budget starter printer that has a pretty decent print speed at this price point. Moreover, there is nothing more required for printing than the machine itself since it is simple to put up and includes specialized software for assembling 3D files.
Voxelab Aquila is a low-cost FDM option. An FDM printer takes a filament strand and feeds it via an extruder to a hot end, where it is heated and laid down on the print bed exactly, which is what FDM stands for. We found the design to be pretty straightforward. It only has a 4.3-inch touchscreen and the bright wire that runs into the machine's back.
Aquila prints only with PLA, ABS, and PETG filaments because of its comparatively low maximum hot end temperature of 250 °C. If this is your first 3D printer and you want to learn the ropes a little bit, it's probably not a big deal. However, your options will be limited if this is not your first rodeo experience.
We were astounded to discover that the 4.3-inch color screen appears like a touchscreen, but it isn't, and that's OK. The alternative is a rotary knob with a select-by-click feature. It is an excellent product in terms of performance, design, and overall quality.
We found that it has two printing options; simple and expert. Beginners benefit significantly from the primary mode, simplifying the available settings to eliminate confusion. Furthermore, you can change almost every printer parameter they want using the expert mode. To begin printing, you must connect the printer to a computer or store the settings on a micro SD card.
In conclusion, the Voxelab Aquila is a superb budget 3D printer for beginners. It is simple to construct and comes with software built expressly for it, making it simple for anybody to operate, regardless of expertise level. As simple as it is for a novice to use, there is still space for advancement by a more skilled individual.
View on Amazon: Voxelab Aquila 3D Printer
5. ANYCUBIC MEGA X 3D Printer
Fastest 3D Printer for Beginners
Max Print Speed: 100 mm/s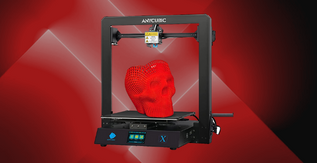 Dimensions of the enormous build
Solid construction quality
Excellent print quality, particularly given the cost
Small and compact size
Print surface that looks like glass
Loud operation
Has no wireless connectivity
The Anycubic Mega X impresses with the good print look and quality and is an excellent 3D printer for beginners. The printer's all-metal frame and small chassis give it a sleek appearance and guarantee that it moves very little and is well constructed and has a decent print speed.
We found that it is unnecessary to re-adjust the printer once you have set it up and you are good to go. Moreover, you can print a full-size helmet in one piece using this 3D printer.
When we used the Mega X with the Anycubic Ultrabase, we could create high-quality prints using standard filaments, giving this reliable workhorse the flexibility to take on more complex printing concepts. This printer is an excellent introduction to the world of 3D printing.
The base unit contains the power supply, mainboard, and touchscreen. Because of the tidy cable management, the Mega X has a slim profile compared to many low-cost desktop printers and the wiring they come with.
We began printing our initial designs with sprain-free hands. The Mega X gets the job done right out of the gate, and we were greatly impressed by the print quality, given the cost. As long as you have your slicer settings correct, the prints are clean and smooth. The hotend is absolutely clean and never gets clogged. There are no hiccups whatsoever in this situation.
In conclusion, Mega-X surpassed our expectations on several occasions. The high level of craftsmanship in the printer's design is visible in its robust look. You won't have to re-level or re-adjust this printer every time you touch it since there are no unnecessary pieces. We highly recommend it for beginners.
View on Amazon: ANYCUBIC MEGA X 3D Printer
6. Phrozen Sonic Mini 4K LCD Resin 3D Printer
Fastest 3D Printer for Miniatures
Max Print Speed: 60 mm/sec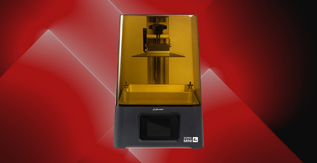 Awesome detailing in prints
Great value for money
Easy to set up
Low levels of noise
Very high-resolution
Compatible with resins from other parties
Very little build volume
USB port placement needs improvement
The Phrozen Sonic Mini 4K resin 3D printer is compact, lightweight, and has a good build volume. It has a fairly good print speed for printing miniatures and has a resolution of 3840 x 2160, which has not only led to an increase in the machine's accuracy but also provided an astonishing degree of detail which is why it is our choice for printing the miniatures, as the system's XY resolution is just 35 microns.
With a monochrome LCD light source, the Sonic Mini 4K can print a layer in less than two seconds while being far more robust and long-lasting than its predecessors. Unfortunately, there isn't much room to work with in terms of build volume, but this is acceptable given the printer's overall compact design.
The gadget is ready to use out of the box. The printer's method is quite similar to that of most other resin printers. We just had to make sure the LCD screen worked adequately and test print a couple of pieces. Moreover, it's quieter while the printer's silent operation is affected by the boisterous cooling fan, which is constantly on to keep the printer from overheating and exploding.
Sonic Mini 4K's print plate now includes an inclined top surface to facilitate resin drainage once a print has finished. The most popular slicing system for resin 3D printers, ChiTuBox, is compatible with the printer. It's a capable tool with an easy-to-use interface that effectively prepares the models.
In conclusion, the Phrozen Sonic Mini 4K is an improved model of the Sonic Mini, which is already a huge hit. It increases resolution without considerably increasing cost, accuracy and depth of detail. Due to its small size, simplicity of use, and a high degree of detail in the prints it produces, it will be a viable option for both professionals and enthusiasts.
View on Amazon: Phrozen Sonic Mini 4K LCD Resin 3D Printer
7. ELEGOO Mars 3 Pro Resin 3D Printer
Fastest and Most Durable 3D Printer for Home Use
Max Print Speed: 50mm/h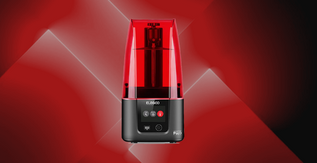 Comes with a one-year warranty
Prints with a 4K resolution have excellent quality
Competitive pricing
Display is clear and simple to use, and the instructions are verbose and helpful
Easy to use and operate
Ultra fast printing speed
Effortless bed leveling
Amazing, innovative design is captivating
In conclusion, the Elegoo Mars 3's 4K resolution screen, big build capacity, and sleek new design make it the most efficient MSLA 3D printer on the market right now. We were delighted with the performance of this 3D printer, and if you are looking for a durable one for home use, you will not go wrong with Elegoo Mars 3 Pro.
View on Amazon: ELEGOO Mars 3 Pro Resin 3D Printer
Frequently Asked Questions About Fast 3D Printers
How Fast Are Industrial 3D Printers?
Many industrial printers can print at speeds of 40-60 mm/s. For a bit extra money, industrial printers can attain 100 mm/s. The top-of-the-line models operate at around 150 millimeters per second. When looking for such printers, you need to check that they have a consistent speed and print objects precisely and accurately.
How Fast is the Fastest 3D Printer?
The Slash Plus UDP is an SLA printer by UNIZ, producing the world's fastest 3D printers. It has a build area of 190x120x200mm and a printing speed of 1200mm/hour.u0026Acirc;u0026nbsp;
How to Increase the Speed of Your 3D Printer?
If you want to print faster with your 3D printer, do the following.u003cbru003eu003cbru003eu003cstrongu003eRaise the Value of the Speed Settings:u003c/strongu003eu0026Acirc;u0026nbsp;Increasing the speed of the slicer where 3D printing takes place is the most straightforward and typical method for increasing the printing speeds of a 3D printer. The printing speed of standard FDM 3D printers may vary from 40 millimeters per second to 200 millimeters per second.u003cbru003eu003cbru003eu003cstrongu003eSet the Temperature Higher:u003c/strongu003eu0026Acirc;u0026nbsp;An increase in temperature of 5-15 degrees Celsius is necessary for every increase in a print speed of 5-10 millimeters per second. It would be best if you took your time and experiment to see which combinations provide the most outstanding results as the ratio varies for varying models and brands.u0026Acirc;u0026nbsp;u003cbru003eu003cbru003eu003cstrongu003eIncrease the Travel Speed:u003c/strongu003eu0026Acirc;u0026nbsp;The term u0022travel speedu0022 refers to the rate at which the printer head moves from one position to a new position when no material extrudes. You may save a large amount of print time by raising the travel speed, but doing so carries the risk of causing ringing or ghosting abnormalities or even layer shifting. As a result, printing tests for various travel speeds are essential and ensure that you have configured your printers to their ideal parameters.
Final Words
That's all from us. We believe that all you want to know about the fastest 3D printer guide will be helpful to you, and you can choose the one that fits your needs and requirements.
In our opinion, R QIDI TECHNOLOGY Large Size Intelligent Industrial Grade 3D Printer New Model: X-max is the fastest 3D printer on the market. It has everything going for it because of its huge build volume and the fact that it can work with materials like Nylon and TPU; it's a viable option for more experienced hobbyists and small enterprises.
Also, if you are looking for the best enclosed 3D printer or best 3D printer for miniatures specifically , check out our guide!