Looking for best 3D printer nozzle? The nozzle is one of the most complex pieces of a 3D printer since it is responsible for depositing filament on the print bed and bringing 3D creations to life. Despite its small size, the 3D printer's nozzle significantly impacts your print's speed and quality considerably. It is thus imperative that you get the finest available, but how do you go about doing so?
As 3D printing grows in popularity, more and more nozzles of various sizes and kinds are becoming available, making it difficult to narrow down your selections. To address that question, we've compiled a list of some of the top nozzles on the market.
What Is a 3D Printer Nozzle?
The part of a 3D printer that deposits the melted filament into the build area is called the nozzle. You can find the nozzle on the hotend of the printer, and you can swap nozzles on most types of 3D printers. Altering the printer nozzle to meet specific needs might result in significant cost savings; therefore, you should not be afraid to experiment with various nozzles.
The following characteristics may distinguish 3D printer nozzles:
Nozzle Diameter: 3D printer nozzles are available in various nozzle sizes from 0.1 to 2.0 mm. The diameter of a nozzle is another factor that controls the maximum allowable layer height and, by extension, the printing speed.
Material: The nozzles of 3D printers are composed of various metals, each of which has its distinct effect on the process of 3D printing due to the relatively high heat conductivity of those metals. Because certain filaments have abrasive qualities, some kinds of metal will wear out quicker than others. As a result, you need to choose the nozzle material carefully.
How Often Should a 3D Printer Nozzle Be Replaced?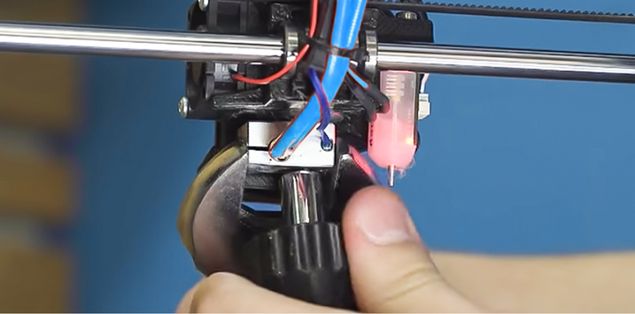 Even though there is no predetermined schedule for when your nozzle has to be changed or replaced, we suggest you do it every three to six months. The amount of time needed for replacement depends on the frequency you use your 3D printer, the kind of materials you utilize, and the caliber of your nozzle.
It is far more probable that you will get more printing hours out of an expensive, high-quality nozzle developed for long-lasting smooth printing than a low-cost brass nozzle.
Things to Consider When Looking for a Suitable 3D Printer Nozzle
Nozzle Material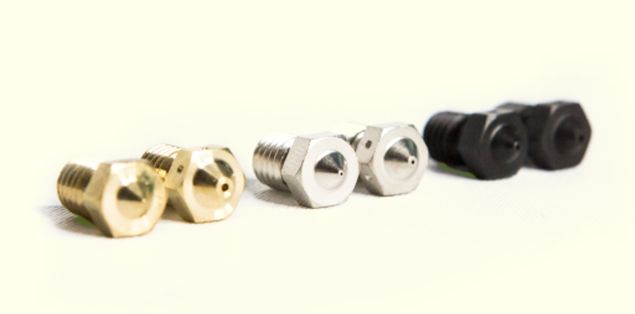 Nozzles for 3D printers come in a wide range of materials, each optimized for specific uses. The most frequent materials are brass, stainless steel, and hardened steel; however, some nozzles also come in Tungsten, a more robust and resilient material.
Assembled nozzles combine the properties of two or even three distinct materials, such as one made of strengthened steel and another with a ruby tip. The following is a list of the most often used materials in the industry.
Brass: Brass is by far the most prevalent material, and brass nozzles are popular because of their high heat conductivity, minimal maintenance requirements, and cheap overall cost. Because of their somewhat brittle character, they are unsuitable for use with more abrasive materials like carbon fiber and metal.
On the other hand, they combine well with more flexible filaments, such as polymers like ABS and PLA. Nozzles of brass tend to wear out more quickly than other materials.
Stainless Steel: Stainless steel nozzles are better able to work with coarse materials such as carbon fiber, NylonX, metal-infused filament, and other materials of a similar nature. Brass nozzles are more susceptible to erosion and ordinary wear and tear than stainless steel nozzles.
They have lead-free printing capabilities, critical for prints done with FDA-approved filament, and are appropriate for use in medical and food-related applications.
Hardened Steel Nozzles: Hardened steel nozzles are a superb option in terms of durability and toughness. They might be the most costly option, but they are made to withstand the daily rigors of abrasive materials and have the most extended lifespan of any nozzle type.
Diameter of the Bore Nozzles
Nozzles for 3D printers are available in a wide range of diameters, each suited to a certain set of applications and purposes. Standard sizes for bore diameters are as follows: 0.1 mm, 0.25 mm, 0.3 mm, 0.4 mm, 0.5 mm, 0.6 mm, 0.8 mm, and 1.0 mm. Bore diameters are also available in custom sizes.
However, the most common setting is 0.4 millimeters, which is likely the one you'll want to choose to strike a compromise between precision and sensible print durations.
As a general rule, greater bore diameters result in quicker printing, the extrusion of more filament in larger layers, reduced risk of mistakes or clogging, and the fact that they are most suitable for printing with coarser filament types. It is important to remember that the print size will determine the level of detail and accuracy that you get in the final product.
On the other hand, small bore diameters provide superior accuracy and finer details since they make it possible to print with lower layer heights. However, this comes at the expense of slower print rates and an increased risk of problems, most notably clogging. In addition, they perform much better when used with more flexible and smooth materials, such as ABS and PLA.
Top 6 3D Printer Nozzles on the Market
Now that you know what the things to consider before making a purchase are, we will help you narrow down your search by telling you about the top 6 3D printer nozzles on the market.
1. 0.4MM MK8 Ender 3 Nozzles 25 pcs
Overall Best 3D Printer Nozzles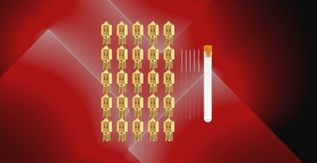 Excellent quality
Affordable price
Brass nozzle, more sturdy and durable
Very precise
Compatible with most PLA & ABS 3D printers
Not suitable for abrasive materials
Brass nozzles are the most susceptible to wear and tear since they are the most common kind of nozzle. The.44 MM MK8 Nozzles are an affordable option for replacing a worn nozzle on a printer with an MK8-style hot end, and they are the overall best nozzles on our list.
We loved the compatibility factor of these brass nozzles as they work with the majority of 1.75mm PLA ABS 3D printers with extruders that include an external M6 thread, including well-known models like the Makerbot, Creality, CR-10, MK8, Makerbot, Reprap, Prusa I3, and others.
On testing, we found that the .44MM MK8 Ender 3 provides clean prints, and, despite being inexpensive, they function effectively to prevent mistakes and clogging because of a rounded output port. After using them for a few weeks, you may toss them away since the print quality is sufficient and they are inexpensive.
In conclusion, get these if you want an inexpensive brass nozzle that prints great, and you won't feel bad about throwing it away if it starts to wear. Moreover, you will feel the print quality improvement when you use the .44 MM MK8 nozzle.
View on Amazon: 0.4MM MK8 Ender 3 Nozzles 25 pcs
2. Mudder Hardened Steel Nozzle 0.4 mm/ 1.75 mm 3D Printer MK8 Nozzles
Most Durable 3D Printer Nozzles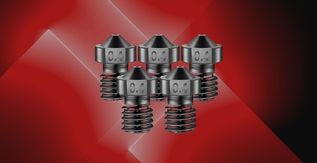 Enduring and resistant to abrasion, heat, and rust
Construction of hardened steel
Compatible with most 3D printers
Comes in a set of 5
Work at a higher temperature
If you want to work with coarse materials and are looking for an alternative to a brass nozzle, you can go with Mudder Hardened steel nozzle as it is affordable. It is available in five-to-fifteen-piece sets, the Mudder Hardened Steel Nozzle has a 0.4 mm bore diameter, which supports filament up to 1.75 mm in diameter, and it's the most durable 3D printer nozzle on our list.
It is one of the most widely used nozzles because of its unique ability to strike a balance between accuracy and print speed. Moreover, because of its hardened steel composition, the Mudder Hardened Steel Nozzle can handle abrasive materials, including carbon-fiber infill, fiberglass, and metal-infused filament.
The thermoformed steel resists nozzle wear, corrosion, and heat to prevent softening and assure long-term durability even after extensive usage. Remember that it is only compatible with printers with MK8 hot ends, such as the Creality Ender-2, Ender-3, Ender-3 Pro, Ender-5, Ender-10, Prusa i3, Anet A8, and Reprap printers.
In conclusion, if you want to work with pretty abrasive filaments, rest assured that they will hold up perfectly on your 3D printer. You would appreciate the improvement in the print quality after using Mudder hardened steel nozzle printer in your 3D printer. Recommend!
View on Amazon: Mudder Hardened Steel Nozzle 0.4 mm/ 1.75 mm 3D Printer MK8 Nozzles
3. US Synthetic Diamondback Nozzles
Most High-Quality 3D Printer Nozzle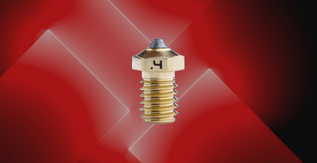 Has a solid diamond tip
Offers unparalleled wear resistance
Prints any filament without nozzle replacement
Enhances adhesion and quality of layers
Reduces necessary operating temperature
Simpler to clean
We did not find any issue
US Synthetic Diamondback Nozzles are for those who do not want any nozzle problem to happen to them again. This unusual material is the perfect choice for 3D printing because of its exceptional hardness, wear resistance, and heat conductivity. It gives out a lot of heat, has a low coefficient of friction, and is quite durable; owing to all these factors; it is the most high-quality 3D printer nozzle on our list.
This new diamond technique enables 3D printers to use the same nozzle to print with whatever material they want. With a DiamondBack nozzle, you don't have to worry about changing the nozzle while printing PLA and ABS filaments or carbon fiber-embedded filaments that are very abrasive. Additionally, it enables the 3D printing of carbon fiber, copper, and iron utilizing PLA.
Except for the top layers, the prints come out very clean, even without optimization. The polished surface of the diamond tip ensures that layers lay down evenly, which is evident in the final product. Moreover, it is hard to go wrong with US Synthetic Diamondback nozzles regarding temperature and building quality.
In conclusion, we can't recommend the US Synthetic Diamondback nozzle enough. It will print brilliantly and can handle whatever you throw at it. The molten plastic materials don't stick to it, and it never tires out. The finish is much smoother due to the better thermal conductivity on the tip and will last for a long time.
View on Amazon: US Synthetic Diamondback Nozzles
4. Micro Swiss MK8 Value Pack Brass Plated Wear Resistant Nozzles
Most Versatile 3D Printer Nozzles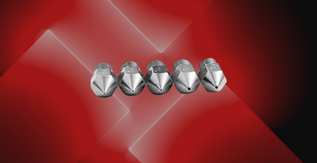 Wear resistant
Can print very fine details
Can handle aggressive filaments like carbon and wood
No sticking to the materials
Excellent quality & precise tips
Micro Swiss MK8 Value Pack Brass Plated Wear Resistant Nozzles are the most versatile 3D printer nozzles on our list as they eliminate the sticking issue you might face with the plastic material sticking to the nozzle. Because of their resistance to wear, you may use them safely with abrasive filaments like carbon and wood.
An MK8 type nozzle comprises 360 brass and has Twin Clad XT coating. A nickel composite coating called Twin Clad XT gives very low friction and has a lower coefficient of friction than nickel with PTFE co-deposit and is among the lowest.
Additionally, it is incredibly durable and abrasion resistant. Micro Swiss nozzles are compatible with Makerbot, Craftbot, Creality CR10, Ender, and Tevo Tornado. These protective coatings greatly extend your nozzle's life when using abrasive filaments like carbon fiber, stainless steel, or wood filler.
In conclusion, the Micro Swiss MK8 Value Pack is an excellent choice for anybody who needs to print fine and tiny details or wants to finish the job quickly. Moreover, they do not have clogging issues, and the nozzle works perfectly.
View on Amazon: Micro Swiss MK8 Value Pack Brass Plated Wear Resistant Nozzles
5. Aokin 16 Pcs Extruder Nozzles 3D Printer Brass Nozzles
Best Budget 3D Printer Nozzles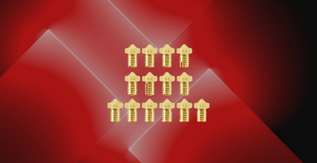 Extremely affordable
Made from premium brass
Excellent high-temperature resistance
Superior workmanship
Smooth flow of filament
Compatible with all E3D, V5 ,V6, 1.75mm, PLA & ABS 3D printer
Value for money
We did not find any issue
Aokin 16 Pcs Extruder Nozzles for 3D Printers are the best budget option on our list as you get a lot for the money. You can purchase a whole set, indeed, many sets of nozzles for your E3D, V5 V6, 1.75 mm, PLA & ABS compatible hotend for a small amount of money.
Aokin Extruder nozzles for 3D printers are composed of solid brass, making them durable and resistant to high temperatures. They also have a silky smooth finish, connect with an M6 out the thread, and are simple to use. What more can you get at such a price!!
We found that the Aokin 3D printer nozzles are high-quality raw materials and have meticulous attention to detail. In our test, they performed outstanding, and there was a smooth flow of filament without clogging or curling.
In conclusion, this is an excellent place to start if you want to experiment with different nozzle sizes. They are compatible with a variety of extruders and provide you with the opportunity to try out a variety of nozzle types before investing in an expensive nozzle in the future.
View on Amazon: Aokin 16 Pcs Extruder Nozzles 3D Printer Brass Nozzles
6. SIMAX3D [5Pcs/Pack] E3D V6 0.4mm 3D Printer Nozzles
Best Corrosion-Resistant 3D Printer Nozzles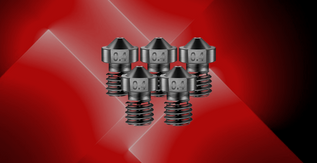 High strength & high thermal strength
Compatible with a wide range of printers
Durable; will last for a long time
Superb corrosion resistance
Smooth & burr-free
Great for printing with abrasive filaments
Easy to use
Some users complained of clogging
The construction of SIMAX3D employs CNC machine technology to get a precise and smooth extrusion and burr-free inside. They make PLA prints seem molded and melt PETG like butter. The hardened steel material gives them excellent corrosion-resistant properties and can perform great at even low temperatures.
Moreover, SIMAX3D nozzles are compatible with all 1.75mm PLA ABS 3D printers, including Makerbot, Creality CR-10, E3D, Makerbot, Reprap, Prusa I3 printers.
The special molding technology guarantees that the interior of the nozzle is smooth and burr-free. It not only lowers resistance and prevents filament clogging but also makes the filament run more smoothly so that you get super smooth printing using various filaments.
Upon testing, we saw that PLA prints wonderfully with virtually any adhering. Additionally, they print well on abrasive materials. They make your prints look like a pro and give high-quality printing.
In conclusion, SIMAX3D are the nozzles for you if you are looking for corrosion-resistant nozzles for your 3D printer that will last for a long time. They will not have any issues with heating and causing your printing to halt but also will give you excellent print quality.
View on Amazon: SIMAX3D [5Pcs/Pack] E3D V6 0.4mm 3D Printer Nozzles
Frequently Asked Questions About 3D Printer Nozzles
u003cstrongu003eDo 3D Printing Nozzles Wear Out?u003c/strongu003e
Yes, the number of hours your printer is operational each day and the kind of nozzle you use (brass, steel, or ruby-tipped) will affect how long the nozzle lasts.
u003cstrongu003eHow to Determine Nozzle Size for a 3D Printer?u003c/strongu003e
The nozzle size typically runs from 0.1mm to 1mm, and you have a variety of alternatives to choose from based on your needs. Moreover, 0.4 millimeters is the optimal size for the nozzle of a 3D printer. We found that almost all manufacturers include nozzles of this dimension in their machines.u003cbru003eu003cbru003eIf you want to produce highly complex objects using a 3D printer, choose a nozzle that is 0.2 millimeters in size. Use a nozzle with 0.8 millimeters in diameter for faster 3D printing. To print using wood-fill PLA, you'll want to utilize a nozzle with at least a 0.4mm diameter.u003cbru003eu003cbru003eThat said, you are not constrained to choose only one nozzle size at all times. It all depends on your requirements.u003cbru003e
u003cstrongu003eAre All 3D Printer Nozzles Universal?u003c/strongu003e
No, Nozzles are not universal. They are available in various dimensions, materials, and diameters. Before purchasing a new nozzle, check to see whether the one you're considering will work with your printer.
Final Words
That's all from us. We hope our buyer's guide will be helpful to you the next time you need a 3D printing nozzle. If you want our recommendation, we will propose the 0.4MM MK8 Ender 3 Nozzles 25 pcs since it contains everything you could want in a 3D printer nozzle.
Also, if you are looking for best 3D printer accessories, check out our guide!