The printing bed of your 3D printer determines how your results will turn out. In addition, it provides support to your model. So, it demands special attention for its care and handling.
This surface is usually glass-based. However, nowadays, aluminum and PEI bed is also available.
Knowing how to clean a 3D printer bed will be crucial as it helps maintain your printer's lifespan and efficiency. Read on to learn more about how and why cleaning your 3D Printer bed is essential.
Why Is 3D Printer Bed Cleaning Important?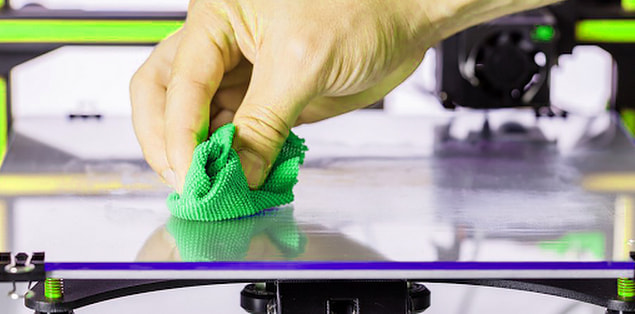 The 3D printer bed is the surface on which you can print your model. Your printer bed may have residual filament after the completion of the printing process.
Printer beds can also get dirty by casual handling. For example, skin oil, fingerprints, dirt, etc., can pollute your printer beds. These pollutants can significantly affect the quality of your future prints, damaging the print bed in the long run.
Therefore, print bed cleaning is crucial. If you skip the maintenance of your print bed, it may cause severe damage. The only way to resolve this problem is to replace the print bed.
What Are The Advantages Of Cleaning a 3D Printer Bed?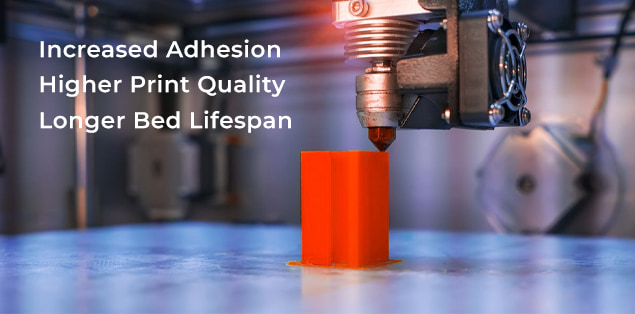 A clean 3D printing surface is necessary for getting flawless print results. Dirty printing beds have repetitive issues with layer adhesion that trades off with the quality of your prints. Even though 3D print beds need low maintenance, cleaning them to remove filament residues, residual adhesive, and other leftover material is essential. Some of the advantages of print bed cleaning are:
Increased Adhesion
Filament and adhesive residues are two of the main reasons you may experience bad quality prints. Therefore, cleaning them with a cleaning agent after each printing session is vital. In addition, if you deep clean your print bed surface, you will get guaranteed better filament adhesion from your future prints.
Higher Print Quality
Effective cleaning is essential because the adhesive residue and leftover filament can create an uneven surface on your print bed. In addition, the base layer of your model won't attach to the bed surface, which can cause other layers to mess up.
A proper cleaning routine of the printing bed guarantees an even surface for every project and suitable base layer adhesion. Preventing the residue buildup with regular maintenance is better than cleaning the stubborn filament residues. The stuck filament gets hardened if you do not clean them regularly.
Longer Bed Lifespan
Hardened adhesive and filament residues may cause a rough surface on your printing bed. As a result, you might require using sharp objects like a scraper, fine grit sandpaper, or high alcohol concentration chemicals like acetone. But if you use all these methods, you might scratch or alter the bed surface, ultimately affecting the adhesion with scratches.
Cleaning the print bed after every printing process completion eliminates the requirement of using harsh cleaning methods, prolonging the printer's bed lifespan.
What Is Used to Clean the 3D Printer Bed?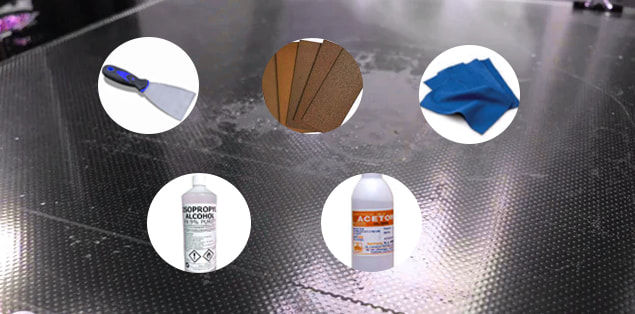 There are several products you can use to clean your print bed. Here are ten commonly used items:
You can opt for a flat blade scraper to remove thermoplastic filament residue.
Low-grit sandpaper can help eliminate residual filament.
One can use a clean microfiber cloth to clean the debris gently.
Isopropyl alcohol can act as a heavy-duty cleaning agent.
Glass cleaner can help remove grime.
Leftover filaments can go away with some dishwashing liquid.
Even some hot water is suitable to soften the residual debris.
A non-abrasive detergent can break down residues.
For oil or fat stains, use a degreaser.
Thermoplastic filaments can dissolve if you use acetone.
Can You Clean 3D Printer Bed With Isopropyl Alcohol?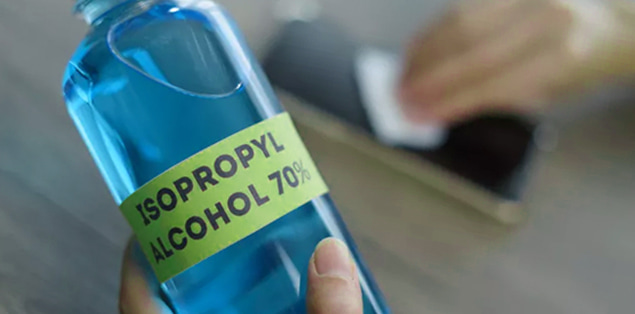 Yes, you can clean your 3D printer bed with isopropyl alcohol, also known as isopropanol.
You can effectively clean the print bed with isopropyl alcohol. Nevertheless, you can also ensure that the print bed surface is cold. Remember that this cleaning agent evaporates quickly.
Use isopropyl alcohol with a paper towel or a soft sponge. Doing this will let you remove light residues almost immediately. Be cautious that you should always use an isopropyl alcohol solution of 99 percent, or else it can lead to streaks formation.
You can also get rid of annoying adhesive tape residues with isopropyl alcohol.
How to Clean a 3D Printer Bed?
One must be extremely careful and gentle while cleaning the print bed. Reading the operating instructions is mandatory to avoid damage to your printer. If you choose specific cleaning methods, familiarize yourself with the process and proceed step-by-step.
If you are new to cleaning 3D printer beds, it is better to be cautious to avoid damage and errors. Out of the multiple cleaning methods, you can select any depending on how dirty the print bed is and what type of printer it is. Here are some ways you can clean your printer bed.
Using Dishwashing Liquid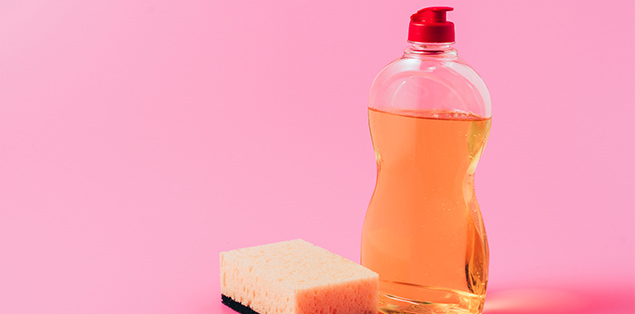 If you find your printing bed slightly dirty or dusty, you can clean it with a damp microfiber cloth and washing liquid. Don't rub too hard if you are using a sponge.
Remember that the print bed should not be hot during this cleaning process. If the printing bed is hot, the individual parts can come off the sponge, sticking to the print bed. One must also avoid the formation of the streak because it can negatively affect the future print quality. It can also remove adhesive tape residues.
Using Glass Cleaner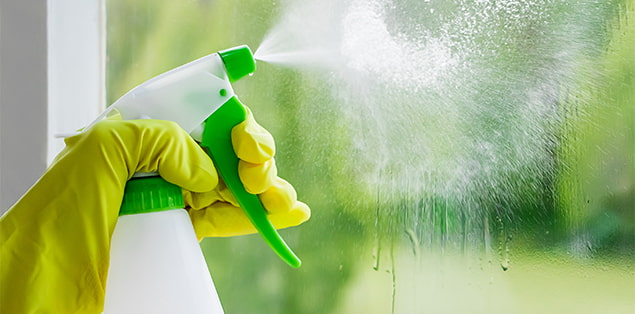 Cleaning a glass print bed with a good glass cleaner is an excellent choice. Just apply the glass cleaner in a generous quantity and keep the glass printer bed aside for a while to let it soak in. After that, wipe the glass print bed repeatedly with a dry cloth. You will get effective results because it can remove grease stains and adhesive tape residues from the glass bed.
Using Acetone and Brake Cleaner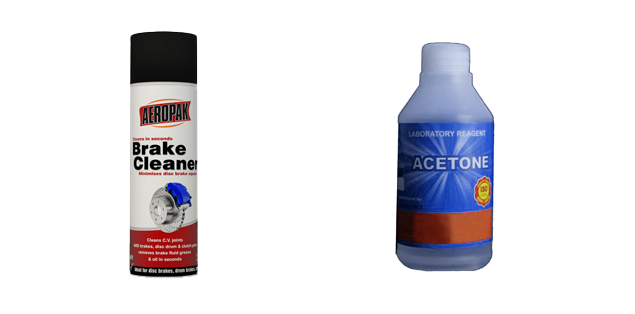 Be cautious while using acetone and brake cleaner to clean your print beds. They do not apply to every type of printing bed. To ensure your printing bed's safety, use this cleaning agent only on products with a PEI coating. This agent won't be able to harm PEI unless you overuse them.
Brake cleaner and acetone are effective in cleaning the printing bed. It removes all the stubborn filament residue by loosening them.
Cleaning PEI-coated products regularly with acetone can cause harm to your print bed. Instead, use them once a week, or the PEI sheets can become brittle.
How to Clean Magnetic 3D Printer Bed?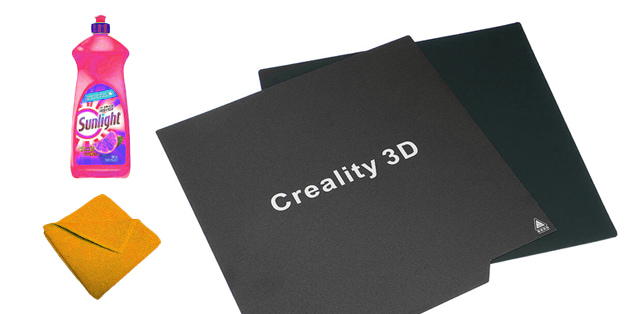 Many individuals use hot water and dish soap to clean the magnetic 3D printer bed. However, rinsing the water by rubbing with a lint-free cloth can work.
Several people also prefer to wipe the bed with isopropyl alcohol after every few prints. Some people avoid acetone as it may melt the plastic sections and remove some mat layers.
A lint-free cloth is ideal for removing dirt, oil, and leftover plastics.
How to Clean 3D Printer Glass Bed?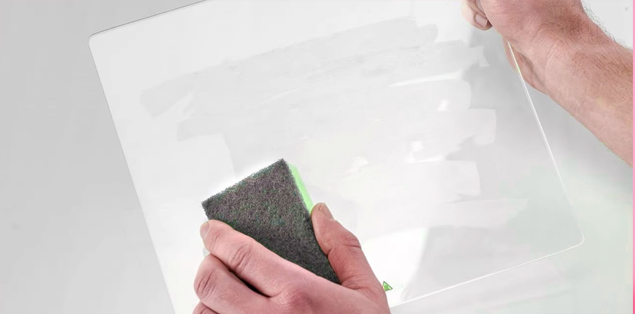 Heating The Bed Surface
Window cleaner can disintegrate residues irrespective of any temperature.
However, heated glue and other residues can be easier to wipe off with a microfiber cloth from a glass surface.
You can turn on your 3D printer to heat it and let it reach 170°F. After the heating process, turn the printer off and then unplug it.
Scraping Off Residues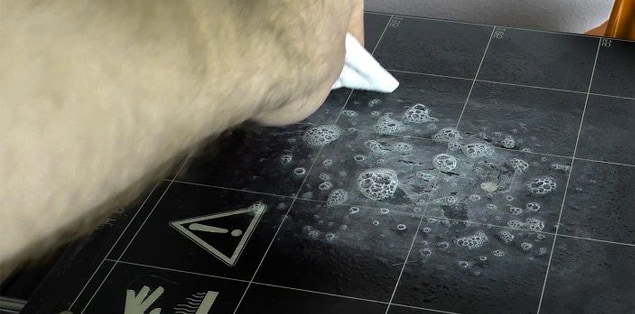 After heating, scrape off the filament or adhesive residues with the help of a scraper. Apply light pressure and try a back and forth motion to scrape off the glue. Use a microfiber cloth to clean the glue residues thoroughly without damaging the glass surface.
Washing Off Residues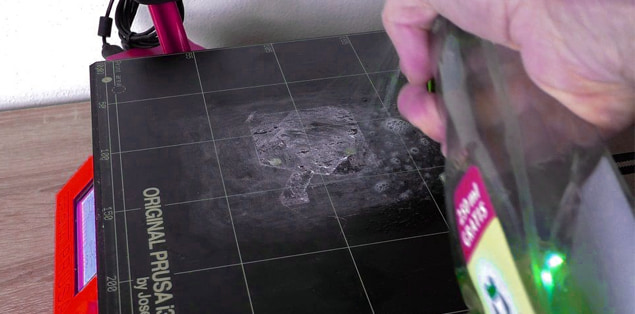 This process involves spraying some window cleaner all over the print bed and wiping it with a paper towel or microfiber cloth to clean it. The window cleaner can remove the glue, skin oil, and fingerprints.
Mix a few drops of soap with lukewarm water and dip your sponge or microfiber cloth. Slightly dampen them and use them to remove the residues. Don't wash off around the edges of your print bed with water, or the liquid can leak under the bed damaging it.
Removing Excess Water
To prevent water from leaking under the bed, you must not wipe the glass surface instantly after scrubbing it. Instead, you can use paper towels to blot the area, allowing them to absorb the excess moisture. Then, to wipe off any remaining droplets, you can use a microfiber cloth.
Removing Other Contaminants
Skin oil and fingerprints can negatively affect your future projects. Preventing this is easy- all you have to do is degrease your glass bed.
You require sterile alcohol wipes or isopropyl alcohol with a concentration of 70% to 90%. Pour any of the solutions on a microfiber cloth and use it to wipe off the surface.
How to Clean Glue Stick off 3D Printer Bed?
Glue stick is a product that people often use on glass 3D printer beds to improve surface adhesion. With usage, the glue can become a residue on the print bed. However, the residual portion is relatively easy to clear. One can use alcohol or Windex window cleaner to clean the residues.
Heating The Surface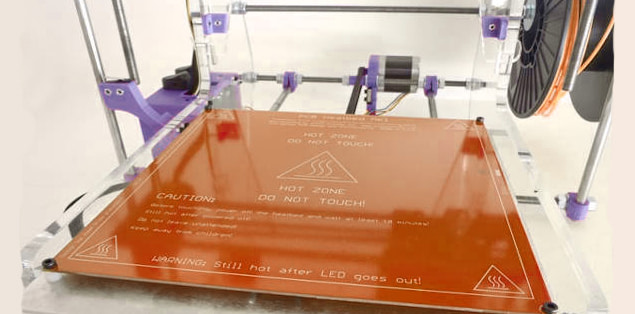 A window cleaner can dissolve the residual glue stick even if you do not apply heat. But, if the glue is warm, it is easier to clean it off. You can wipe the glass surface, which can clean the residual glue.
Turn the printer's heat on and let it warm up to 170 degrees Fahrenheit. Once your printer is heated, you can turn it off and unplug it. Next, you can use your cleaner to wipe the surface and clean the adhesive.
Removing Excess Glue Stick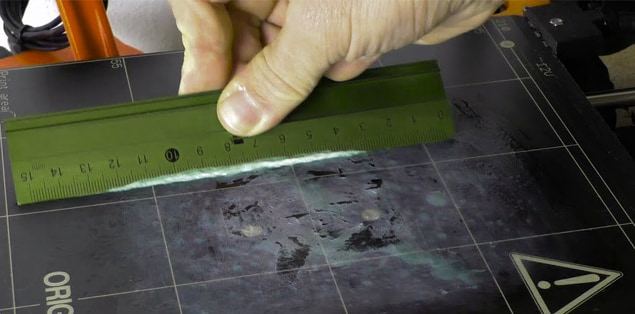 To remove any excess glue on the surface, you can use a scraper to scrape it off. You can also apply gentle pressure on the surface to clean the residual ocean.
Be careful not to damage the glass print bed by applying too much force. Go in a back and forth motion to get the best results.
Cleaning With Windex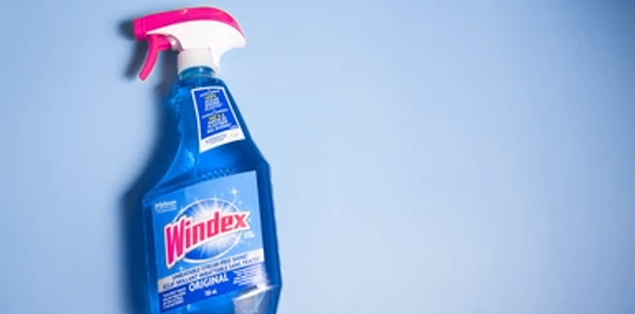 Windex is another product that you can use to clean your print bed. Start by spraying some of the Windex liquid all over the glass bed and use a clean microfiber cloth to wipe it dry. You can also use good-quality paper towels for the wiping.
The window cleaner can easily clean the glue stick. It is also effective against fingerprints and oil residuals from the skin. The best part about using Windex is that you don't have to rinse the surface after you finish. Instead, the cleaner can air dry by itself.
How Often Should You Clean Your 3D Printer Bed?
Although there is no fixed schedule for your 3D printer bed cleaning, it is best if done at short intervals. This process will ensure that the residual filament does not attach itself permanently to the surface.
One should also check the surface adhesion and inspect the printer components. Finally, one must explore any streaks, deposits, or adhesive residues.
Neglecting the cleaning process of your printer can damage it severely, especially if you can see it has become dirty. Therefore, as soon as one notices any contamination, one should clean it. This cleaning can extend your printer's lifespan and keep providing excellent performance in the long run.
If your printer has minimum usage or you did not use it in a while, you should inspect the component. Even without any use, dust can accumulate on the surface. This collection of dust may not impair the printer. However, it can damage the surface adhesion, which leads to poor performance.
If the surface of your print bed has dust, you can wipe it with a damp cloth. Usually, this process is sufficient to clean it. However, you must perform a light cleaning routine to avoid more aggressive cleaning agents.
You can also connect with the manufacturer for tips to keep your printer clean and avoid damage.
What Should You Avoid While Cleaning?
While cleaning your 3D printer bed, remember a few things that can damage your product. One must avoid certain acts that could be harmful to the printer bed.
To ensure that the filaments last for long and have good surface adhesion, one must not use abrasive agents to clean them. Too aggressive cleaning agents can destroy your device's print bed. They may also put scratches on it, meaning the filaments won't adhere to the surface appropriately, and the printer will start to malfunction.
One must also avoid using a sponge that has a rough surface. Smooth and soft sponges are preferable as they won't leave any scratches on the print bed.
While using acetone, one must be careful as it is unsuitable for a coated bed. In addition, acetone has an aggressive effect on the print bed which can destroy the coating of your print bed.
Once you finish cleaning the print bed, ventilate the room and let air flow. Then, the toxic fumes from all your cleaning agents can go out.
Final Words
As the printing bed is an essential and crucial component of any 3D printer bed, one must try to avoid any damage to it while cleaning. If you feel confused about proper cleaning methods, refer to operating instructions or contact your manufacturer.
Not cleaning appropriately or using incorrect products may harm the machine and affect its functionality. Hence, use only the correct cleaning agents that help increase your printer's lifespan and keep it scratch-free.
Also, if you are wondering what's inside 3D printer kit?, check out our guide!