Before discussion about "which is the strongest 3D printer filament," let us first discuss a little about printing itself. Printing technologies emerged as early as the 15th century to reproduce the original text in multiple copies. The traditional printing method required enough manual labor, and the technology was old-fashioned.
However, with time the use of heavyweight instruments got substituted. The new trend was to produce more in less time using lightweight tools. This transformation from woodblock printing to inkjet laser was a long journey through technical channels.
While printing is an imitation of images and text to represent the photocopy of the scanned copy, 3D printing offers three-dimensional portraiture of the scanned manuscripts. The mechanism that a 3D printer uses is thus a bit different from what a regular printer uses.
The use of Fused-Deposition Modelling in 3D printing arises from the layering technology that stands essential to the pop-up textures. You may be wondering about the material that 3D printers use to print. The material used is a polymer, for it offers versatile benefits.
A detailed analysis might help you understand how a 3D printer works and the do's and don'ts one must abide by while investing in a 3D printing model. In addition, you may gather new knowledge to help maintain your printer's longevity.
What Is a 3D Printer Filament?
As we all know, a filament is a conducting wire having a high melting point. Therefore, the need for a filament includes the conduction of heat and electricity.
But, 3D printer filaments are thermoplastics that melt when exposed to extreme heat. So, the printing process gets initiated by melting these plastic filaments. The process where the conductive wire gets heated until it reaches its melting point is the Fused Filament Fabrication or Fused Deposition Modeling.
The filament model is a popular alternative to powder or liquid resin technology. It is a functional prototype appropriate for assembling mechanical instruments used in the industrial sector, aerospace designing, architectural miniatures, digital content creation, and many more.
How Does a 3D Printer Work?
A Fused Deposition Technology uses the layering process to create the pop-up texture in a 3D design. However, this layering follows a few tricky steps. Let us understand it in brief-
Step 1- Modeling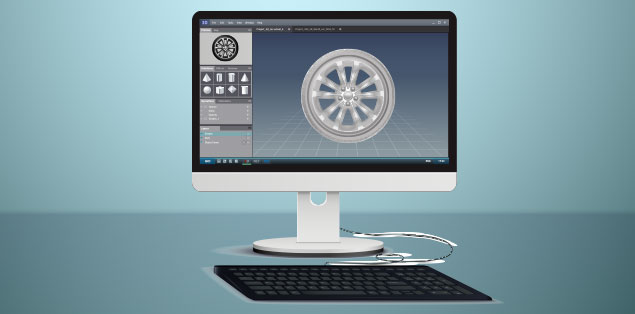 The initial step is to reframe and sketch the design using 3D modeling software. It aims at getting a detailed understanding of how you want your printing to be. The software helps articulate a precise model of the outcome you are waiting for. Prior imaging offers an edge to the aspect of customization.
Especially for aerospace and automotive industries, the trial and error method to sketch out the best-desired results and 3D modeling software turns helpful.
Step 2- Slicing the Model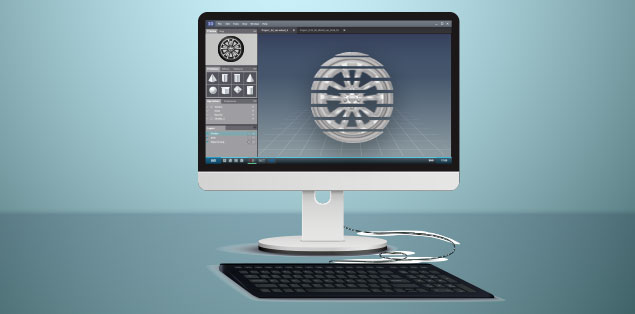 The image obtained from software design goes through trial and error slicing. Slicing means conceptualizing the ideas and reframing the design with the engineers to finalize the 3D model. This step also includes the involvement of slicing software. With the help of slicing software, we get an idea about how a printer will initiate the printing.
Step 3 – 3D Printing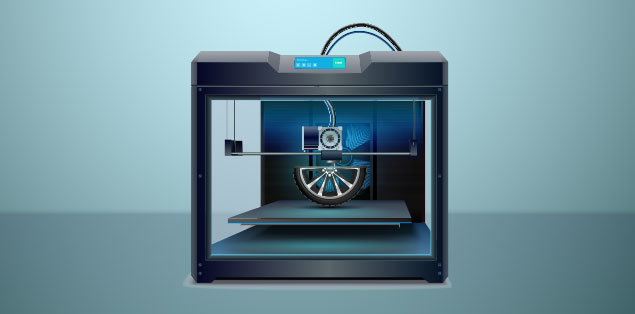 After the modeling and slicing are complete, a 3D printer takes over. The printing nozzle works like a traditional inkjet printer to print the sketched impression. The nozzle dispenses polymer layer by layer. But the mechanism is that once the first layer gets dried, the printer nozzle dispenses the next without staining the print. Continuous layering gives a 3D effect to regular printing.
However, to achieve the best results in 3D printing, filament manufacturers work on modifying the material to provide the best durable material at market-challenging prices.
Uses of 3D Printers
The application of 3D printing technology is in trend these days. From designing an automobile to understanding human physiology, 3D printing is in crazy demand.
The range of applications includes studying human bone with precision, architectural necessities, tool designing, fixing automotive components, etc. A recent addition is its use in robotic technologies.
What Do You Mean By the "Strength" of a 3D Printer Filament?
The strength of a 3D printer means its lasting impact and durability. However, the term strength in this context is solely not dependent on the toughness of the material. When opting for any 3D printing technology equipment, we look for multiple aspects ranging from cost to availability, durable material to customer reports. The filament strength of a popular 3D printer depends on a few factors.
Some attributes that make the filament durable and long-lasting include properties like temperature resistance, chemical resistance, material flexibility, the durability of the raw material, tensile strength, and many more. Let us consider these aspects in brief.
Temperature Resistance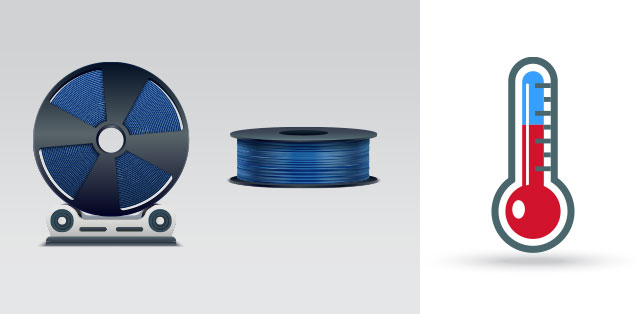 A 3D printer filament must have heat resistance to the point that it will not lower the durability and toughness of the filament material.
A popular choice is Nylon, PEEK, and Polycarbonate filaments. They have a high melting point and function well as filaments as they can withstand higher temperatures.
Chemical Resistance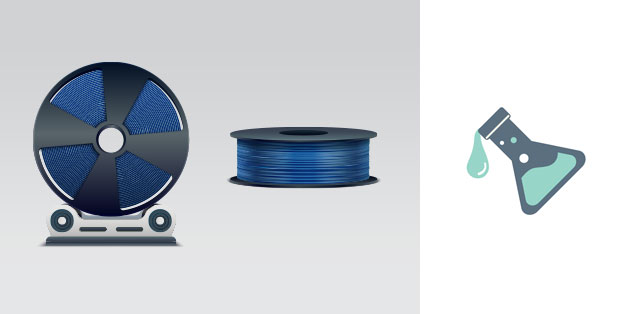 While initiating a 3D model printing, the use of harsh chemicals is not new. However, the chemical-resistant property stands essential in completing the entire process.
ABS filament is an alternative to low-grade material, yet Polycarbonate is the sought-after option.
Material Flexibility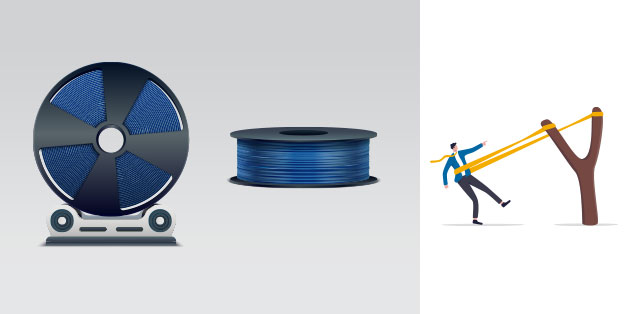 The flexible filament material must have protection against breakage and be flexible enough to withstand breakage. It gets expressed in megapascals.
Tensile Strength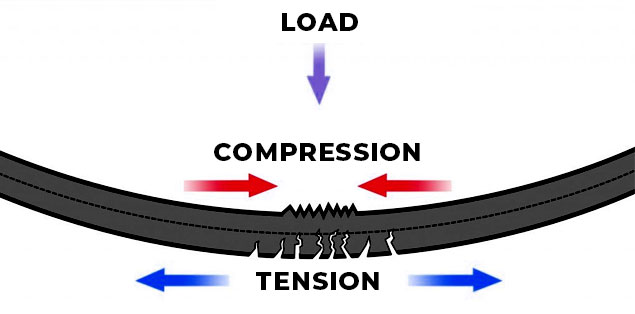 The tensile strength of a filament allows protection against extreme tension. To test the tensile strength of a material's durability and load-bearing capacity, the manufacturers of 3D printer filament use a tensometer. Tensile strength stands vital for products used in mechanical applications.
Impact Resistance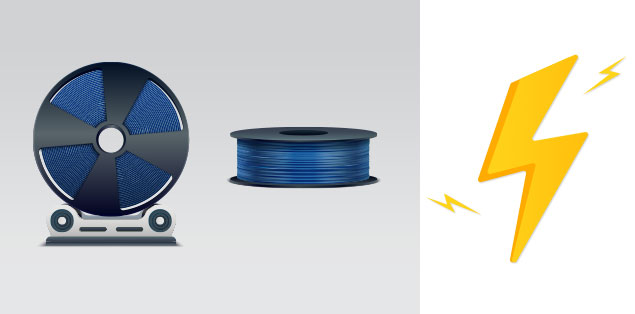 The property of shock absorption corresponds to the impact strength of a material. Therefore, a material used in 3D printer filament must have fair durability to withstand jerks and shocks. In addition, high impact resistance is a must to avoid breakage due to collision.
What 3D Printer Filament Is Strongest?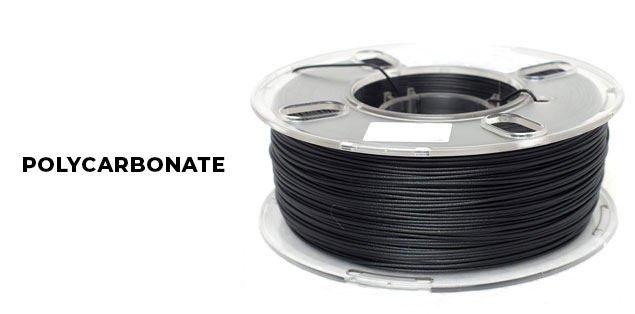 Customer reviews and market surveys claim that Polycarbonate is the most robust 3D printer filament. Evidence indicates that the tensile strength of polycarbonate filament is 9800 PSI.
Different 3D Printer Filaments and Their Strengths
Though surveys claim that Polycarbonate has the maximum potential as a 3D printing filament, the performance may have a relative impact under different circumstances. Therefore, comparing other filament materials and their strengths will help us understand the importance of each material used in a 3D printer.
Polycarbonate Filaments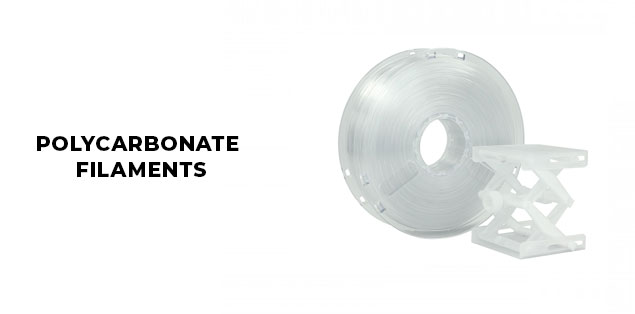 Polycarbonate filament owns their fame for their high resistance and impact resistance attributes.
They can withstand heat up to 140 degrees Celsius.
They have a high melting point and can function well in wax distribution.
As per some studies, the average tensile strength ranges between 70mpa to 80mpa. Therefore, they are great for application in robot combat technology. They have a high tensile strength that resists frequent damage. In addition, they provide more dimensional stability than other filaments.
As a high-quality filament, it gets crowned as the most robust 3d printer filament.
Nylon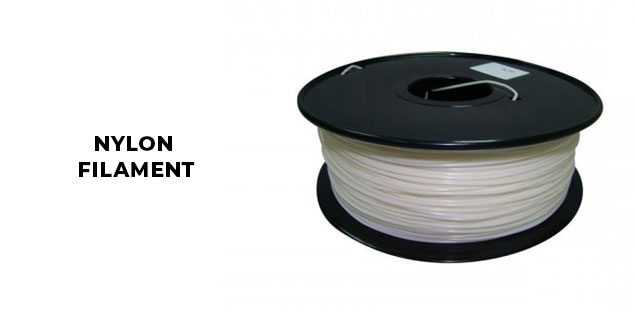 Nylon carbon fiber filaments are a variety of Polyamide plastic. They have a tensile strength of 50 to 70mpa and commendable mechanical properties. Though they are not as strong as polycarbonate filaments, they are famous for SLS 3D printers. According to surveys, they have a tear resistance of 75kj/M2, but they require a heated bed with a temperature of 80 °C.
However, the durability and flexibility are better than polycarbonate filament. Nylon filament provides fair surface smoothness.
But unlike polycarbonate filament, it is prone to moisture absorption. Excess moisture absorption leads to bubble formation in the filament. In addition, it lowers the temperature, which can be a drawback to 3D printing.
TPU Filament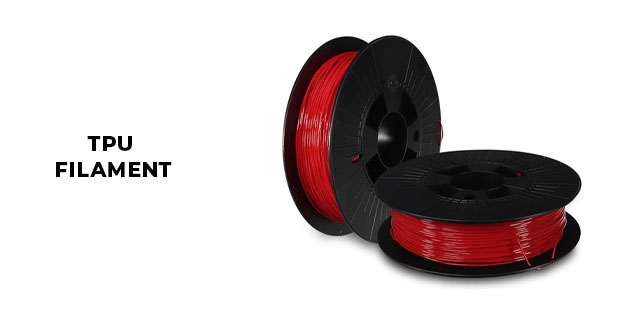 TPU filament or thermoplastic polyurethane is a well-known alternative for protective enclosures due to its high impact resistance. In addition, the shock-absorbing property makes thermoplastic polyurethane have fair abrasion resistance.
However, they have a low tensile strength ranging between 20 to 50mpa. Due to low tensile strength, the filament does not come in handy for molding and beating. Nevertheless, TPU materials are handy for phone cases, prosthetics, industrial art, etc.
Acrylonitrile Butadiene Styrene (ABS) Filament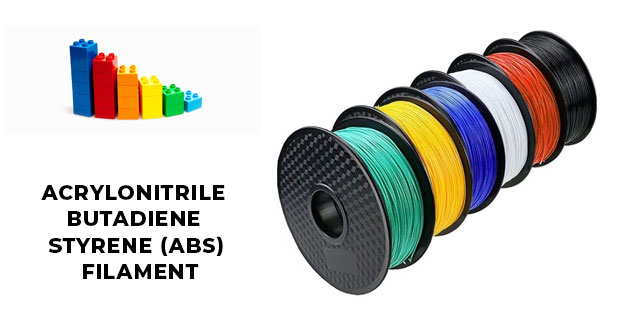 ABS filament is one of the earliest 3D printing filaments. It is a versatile product, and its low price attracts many users. However, many other filament types are more popular nowadays than this one.
ABS filament is present in engineering or technical-based fields. It is affordable and suitable for users tight on a budget. It massively impacts resistance and is cost-effective. ABS is a water-resistant filament that provides a smooth and attractive finish to your printed model. It helps create products with high functionality.
This specific product has a tensile strength of more than 4500 PSI, which is lower than polycarbonate filament but is more accessible. In addition, it has a high-temperature resistance because of its high melting point.
But, similar to other thermoplastics that can withstand high temperatures, ABS filament warps easily. Also, when it melts, it generates fumes that can irritate the users. Therefore, one cannot use this filament in a place that is not well-ventilated.
PEEK Filament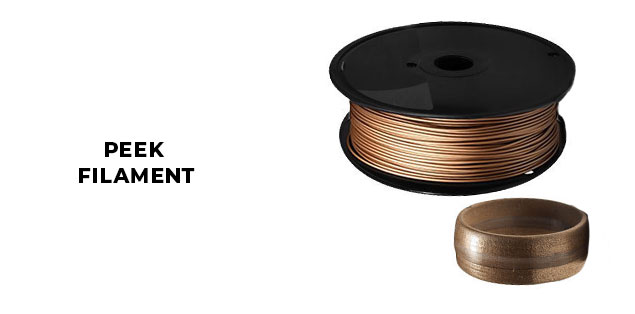 It is one of the most reliable filaments users trust for 3D printing. It stands for Polyether Ether Ketone, which states its constituents. It manufactures from the phased polymerization process that occurs at high temperatures.
Polyether Ether Ketone is a semi-crystalline thermoplastic known for its excellent strength. It also has a high chemical resistance. This detail indicates that PEEK filament can resist organic, biological, and other chemical degradation in any environment.
PEEK has an operating temperature of 250 degrees Celsius. It is present in medical fields because it reduces moisture absorption levels and makes sterilization easier for these industries.
Carbon Fiber Filaments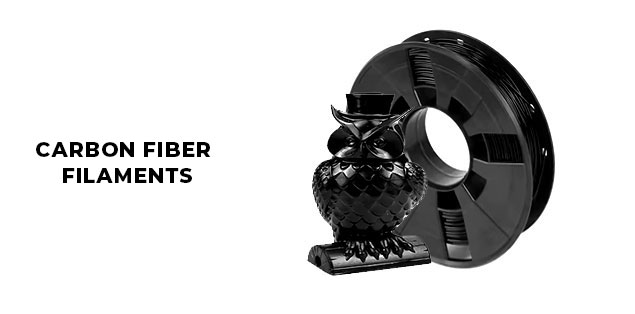 This filament is a fiber-based product with carbon atoms in it. They are in a crystalline structure that increases strength, making this filament ideal for the automotive industry.
Carbon fiber is light and has high dimensional stability. It is resistant to chemical degradation and corrosion. Its strength helps to mitigate collision or shrinking chances.
The aerospace and Automotive industries prefer this filament for its stiffness. A high-quality carbon fiber filament has a flexural strength of around 540 MPA and a high strength-to-weight ratio.
Final Words –
Strongest 3D Printer Filament
Filament printing has been in trend for the last few years. Its rising craze stems from its diverse applicability. Though its popularity has not reached its zenith with business professionals and industry experts, its usage solves its mainstream functions. As per the Smithers report, the annual growth rates recorded a 23 percent increase in sales.
Filament printing has extended its commercial success to a level that even low-budget brands are also engaging themselves in promoting their products using 3D printing models. Apart from the highly technical field like aerospace and medicine, the fashion and nutrition industries are also planning to adopt the strategy to survive in a highly competitive sphere.
There is no doubt that 3D printing offers an array of advantages. However, mechanical expertise in this field is relatively low compared to traditional inkjet printers.
Availability for filament materials that can perform well with a 3D printer includes only a few. Therefore, material compatibility is vital before entering this 3D printing field. Also, they are expensive and not the best option for high volumes.
An effective way to opt for 3D filament printing rests on your demands. This printing technique may suit your concern if you prefer producing innovative 3D models in low volumes. However, if your business revolves around high-grade printing, it should not be your primary choice.
Deviating from the stereotype printing technique, the invention of this technology is a landmark creation. However, one must forget that such a high-tech mechanism requires enough care and expertise if you wish to enjoy its long-term benefits.
Also, if you are looking for the 3D Printer Filament Types or 3D Printer Accessories , check out our guide!